For thousands of years, humans have forged breathtaking jewelry pieces by simply using their imagination, precious materials, and their naked hands. Nowadays, with the help of software technology and creative skills, we are able to produce one-of-a-kind designs only believed to be possible by experienced craft masters.
The classical method for making jewelry by hand is using wax, then gradually molding it up and carving it to the pre-conceptual design in mind. This method is very tedious and requires intense focus. 
CAD stands for Computer-Aided Design. And having a skilled individual using software to create authentic and never-seen-before designs open new boundaries for the jewelry industry. One can emulate production characteristics such as clarity, light reflection, choice of gemstones used and precious metals. 
In this blog, we will tackle some of the real advantages your jewelry business can thrive from trusting CAD jewelry designing as your creative force.
Complicated designs are doable using CAD Technology
Let's face it: competition is fierce among jewelers. Designers want to impress customers who in their turn, want to impress their entourage. For custom-made pieces or as they call it in Europe, bespoke jewellery, CAD is a true time-saving solution without jeopardizing quality, ever.
CAD software provides a fully geometrical accurate jewelry model from the beginning to the very last stage. This signifies that the modeling process of the jewelry in question is executed in a higher visual-engineering dimension. The symmetrical aspects such as curves, dents and cuts, for instance, are harder and takes much more time to be replicated by hand. This is why combining CAD with 3D printing technology creates wonders for jewelry makers who can print out wax molds of complex designs in a matter of minutes.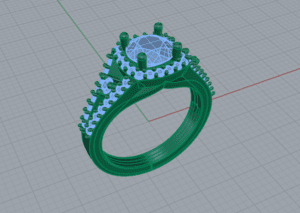 The Undeniable Powers of Rendering
Rendering makes your creative thoughts for a jewelry piece come alive so that your customers can picture it more clearly once it's done. 
A skilled designer profoundly mastering modern CAD software can render a piece to such an extent that the image exported may nearly look like a high-definition photograph of a physical model. 
When speaking of custom-designed jewelry, rendering will enhance your client's buying experience by allowing him/her to observe closely what they are about to purchase with utmost detail. Not to mention creating a 360-degree animation of your jewelry piece which has a true impact on the decision-making period for buyers. As a jewelry business owner, you will save big since you won't be wasting time on expensive molds if ever your customer "changed their mind" in terms of design. Alternatively, designs can be sketched, modeled, altered, and produced way quicker!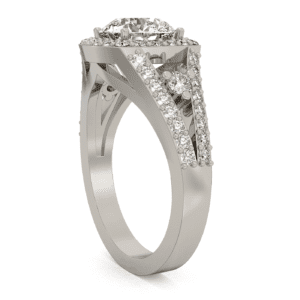 Last but not least, you must understand that flawless perfection is no accident, but an assured result when you have the right people operating CAD jewelry programs. Some of the tools we use here at Sarkissian Luxury Studio are Rhinoceros 6, Gem Vision Matrix 9, MatrixGold, Blender, Art Cam, Zbrush, Keyshot 8, Maxwell Render and more. We work collectively with a young and proficient team that's always aiming to surpass our client's expectations.