Before the COVID-19 pandemic put the world behind closed doors, the jewelry industry was expected to become a $480.5 billion market by 2025. However, the market fell by 33% in 2020. While the last two years have given jewelers around the world a new set of challenges – from lockdown to people afraid of going out and cancellation of events- they also brought new opportunities for retailers who believe in creativity.
Many big jewelry brands successfully survived multiple waves of coronavirus, and the credit goes to their eCommerce stores. Before the pandemic, several of these jewelry companies had their online stores. When buyers chose online shopping over brick-and-mortar jewelry shops, these brands took the lightest hit. In fact, they were the ones that caught buyers' attention. 
The online market helped the jewelry industry make a comeback in 2021. It enabled retailers to globalize their businesses and gain attention worldwide. Also, it encouraged small retailers to come up with unique jewelry designs and compete against big brands. 
Although online shopping is safe and convenient, it has its own set of challenges – for both retailers and consumers. 
When offering jewelry online, retailers can't provide customers with the actual experience of what a product looks like. But, on the other hand, consumers can't feel a product. In addition, most online retailers offer only a few images related to a product. 
3D Rendering and Animation for Better Consumer Experience
Like everything else in the world, online shopping has its own pros and cons. However, advancement in technology has helped jewelry retailers resolve some of the disadvantages of online shopping. For example, the introduction of 3D technology has enabled retailers to provide their online consumers with a 3D view of their products. 
The advent of the eCommerce industry is not only helping existing retailers but also enabling individuals who have little or no knowledge about jewelry but also wish to start their jewelry outlet online. Rather than investing in brick and mortar stores, all they do is focus on improving the customer experience online. However, not all of those retailers know how to create brand awareness and create appealing visual content to grab consumers' attention.
Creating engaging, useful content is crucial for online customer satisfaction because when shopping online, people cannot feel a product. They need assurance that what they are buying is a top-quality jewelry piece that suits their personality and needs. For example, big brands, which have been in the online jewelry industry for a long time, create attractive animations and videos to attract their customers. 
But it doesn't mean only big jewelry brands can attract consumers by posting visual content on their official websites and social media accounts. There are two ways to create online content to enhance consumer experience: Social media rendering & social media animation.
What is Social Media Rendering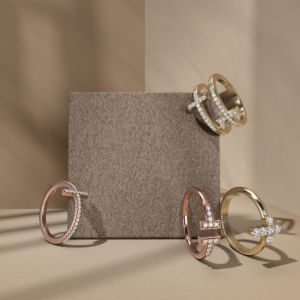 Rendering, or 3D photorealistic rendering, is a computer process where photo-realistic images of jewelry products are created to post on online platforms like social media channels. These images are created using 3D models of a jewelry product that are processed in rendering software. These images provide viewers with realistic images of a product before touching them with their hands. 
Lots of retailers do not invest in social media rendering, thinking it's expensive. The reality is that the jewelry rendering process is more cost-effective than traditional photography. In addition, it enables retailers to show details about a product. The outcomes of rendering are usually used on social media channels during campaigns or on a company's website. 
What is Social Media Animation
One of the most common trends in the corporate world is 3D animation. While most companies use the technology for sales and branding purposes, the jewelry industry has one more reason to use animation: Telling a story behind the jewelry-making process. 
3D animation videos are a way of showcasing jewelry pieces and the exciting story behind them. Also, the animation technique allows consumers to get a detailed glimpse of a product and visualize it. By adopting animation technology, retailers can allow their customers to understand the design and get an idea about its measurements. 
Retailers and jewelry brands use animation videos to promote their products on social media channels and in their marketing campaigns. 
Both rendering and animation can come together to help retailers provide their customers with an exceptional online buying experience. In addition, they can use the two technologies to market their products.
Although rendering and animation are optional for retailers, they can ensure your company's marketing content is top-notch and give you the best ads impressions. On the other hand, neglecting these technologies can impact your online sales, which is not good when other jewelry brands are using the technology and reaping good results.
Using Rendering and Animation for Online Marketing 
Rendering and animation can help retailers showcase their products in a more exciting way. Now the problem is that the market doesn't have many companies that offer social media rendering and animation services. 
At Sarkissian Luxury Studio, we understand the urgency of retailers and jewelry brands to get unique pieces without compromising the quality. We value our customers' time and help them get the best of rendering and animation for online marketing. 
We are perfectionist CAD jewelry designers, mastered in 3D rendering and 360-degree animation. We can help you meet the desired results, that too with the shortest deadline, so that you can stay ahead in the competition.  
With the help of professionals who are experts with the knowledge of the top software, you can get unimaginable results. We've a team of talented and creative professionals who have already helped many businesses create a successful model. We offer a wide range of services, and rendering and 3D animations are our top-notch services. Our skilled animators take into account the smallest details about your jewelry pieces and create attractive images and animation videos to help promote your business.