CAD professionals use the software platform to provide jewelry brands with more control over their designs to offer unique products to their customers. Eliminating the hectic process of modeling a design by hand, experienced CAD developers & designers use the software to 3D print a wax model, which is then used for metal.
If a jewelry piece is an art, CAD designer is the canvas used to create it! And, a CAD jeweler is an artist. It is an undeniable fact that technology has revolutionized almost all sectors, and CAD is a significant example of technology being used in the jewelry industry.
While the CAD platform does not replace those talented and skilled jewelry experts who polish and weld pieces, it does allow jewelers to create prototypes of their inventions. These prototypes enable the certified and skilled CAD designers to stay ahead of the curve and ascertain the value of a probable design. These professionals use the  CAD software platform to create unique, fresh jewelry designs, which ultimately adds to profitability of the business overall.
Now, the question is: What does CAD exactly do, and how does it empower the jewelry creation process?
What Does CAD Do for Jewelry Designers
The software solution allows designers to create jewelry designs that are unique, accurate, and easy to modify. Rather than trying new designs with the actual metal, experienced CAD developers use different tools and techniques of CAD to create new designs. 
Designers Can Turn Their Ideas into Reality
CAD developers use their knowledge of the software to test their designs, create prototypes and make changes  to them, if required. 
In a way, it guarantees the rate of success of each design and is buildable according to the trends of the day and age. It vastly reduces a professional designer's time taken to create one specific unique design and at the same time, gives wings to dreams of creating numerous glamorous jewelry designs within the same timeframe. More time equals more designs, and more designs equals a higher productivity. 
Designers Use CAD for Accurate Results
While the traditional methods of jewelry designing were somehow associated with the use of metal, the use of CAD technology enables design professionals to change their designs as many times as they want. Also, they are able to hone their skills and fine tune their designs, which in turn provides customers with inspired designs. 
CAD Designers Help You Stay Ahead of Competitors
With the CAD software solution, a jewelry brand can help get their own jewelry designs, which infuses a sense in customers that they will get unique jewelry products. In this way, our designers at Sarkissian use the CAD technology to help propel the brand stay ahead of competitors globally. 
Jewelers Get Their Job Done Quickly
CAD developer creates a file in a very detailed way, which means a jeweler doesn't have to do much with the design. The jeweler only needs to work on the details in the file to bring the design into life. When jewelers have a clear look at the end result of a design, they know how exactly to provide a piece with the finishing touch. They do their job while considering the accurate measurements, for example, creation of the shank part, prong part etc. So, the experienced CAD professional helps jewelers to save extra time on the jewelry piece creation process with providing accurate files.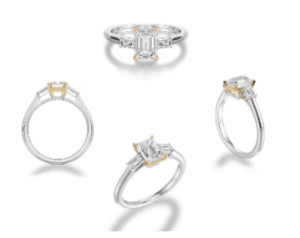 Above we can see the final result of a ring creation process, now let's see what kind of issues can arise during a process.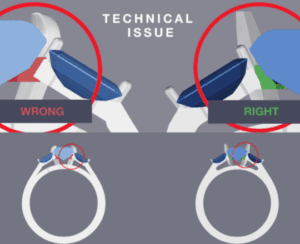 Technical Issue: As you can clearly see that the basket metal in the 'wrong' part is too thin, which means the jewelry piece can break during the grinding process. Also, it complicates the assembling process for the jeweler.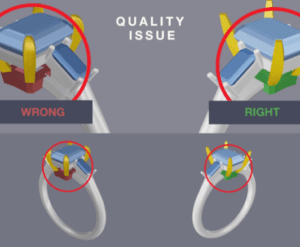 Quality Issue: An inexperienced CAD designer can make a mistake like doing prongs incorrectly. However, when it is done correctly, the jeweler can save time and focus only on polishing the piece.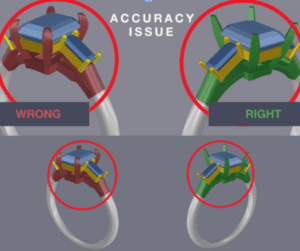 Accuracy Issue: The best product is one whose all details are matched. During the process, there can be accuracy issues that need to be resolved before the design goes into the manufacturing process. 
What Does CAD Designers Do
As discussed, CAD does not replace jewelers who cast or polish these jewelry pieces. However, CAD designers can use the software solution to create prototypes of jewelry pieces before they go into the dimensional designs. Still, they require to use their artistic vision and knowledge related to CAD to create unique, creative designs.
Once a design is ready, it becomes available in the digital form and is sent to mills, printers, and similar machines, where they are converted into a real jewelry piece. 
How to Hire CAD Designers for Your Jewelry Brand
Advancements in technology have made it possible for brands to hire CAD designers from all around the world. Platforms like UpWork and Fiverr allow you to work with freelance CAD designers, but a huge problem occurs when you require multiple CAD designers for your project. In this case, you need to appoint a manager to monitor the progress and ensure that everything is on track. This can be both expensive and time consuming. 
Here, the best solution is to hire a CAD designing company. When you hire a company:
You work with a team of professionals who work on different aspects of a jewelry design project – including jewelry casting patterns to samples and 3D printing. You work closely with a manager who controls a team of CAD designers who customize a design and create it as per your requirements, so you don't have to deal with multiple CAD developers and management becomes easy

You don't need to hire a manager to look after freelancers' work. You already have your manager inside the company.

You get quality and satisfactory results.

Your data is kept confidential. When you hire multiple freelance designers, it becomes challenging and time-consuming to track their activities and ensure that your designs and raw data is safe. On the other hand, when you hire an agency, your data is safe. An agency has a reputation to maintain.
Conclusion 
Now that you have understood the importance of professional CAD in jewelry designing and the benefits of hiring a company over a freelancer, it's time to join hands with the best professionals for your brand or the next jewelry design project. 
Sarkissian Luxury Studio doesn't just sell 3D modeling, rendering, and animation services to its business customers. We partner with them to create long-term customer success.