Fashion lovers all over the world came together to during the Fall/Winter 2019-2020 Fashion show season. These shows, spread throughout London, Paris and Milan, revealed the upcoming trends. Every respected fashionista noted down all the things they deemed necessary for their closet for the upcoming year. However, clothes weren't the only thing in the center of attention this season.
Fashion implies both clothing and accessories that compliment it. No look is complete without at least one type of jewelry in it. That's exactly why everyone was very attentive to the jewelry that the models wore on the runway. Don't worry if you weren't paying much attention as we have made a list of the biggest jewelry trends you need to keep in mind for 2020.
Punk Jewelry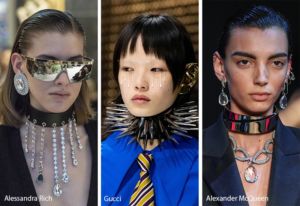 This trend might not be for everyone, but punk jewelry made a statement on the runways this year. The rebellious spirit of the past is once again getting the popularity it deserves. Whether it is big spiked chokers or bondage style body accessories, punk jewelry can make any outfit look interesting. Combined with the grungy and androgynous outfits on the runways, this type of jewelry fits very well with younger people.
However, some people worry it won't go well with their classy closet. This fear is completely irrational. Punk jewelry isn't made to be worn on a daily basis. This type of jewelry is meant to spice up your looks on special occasions.
Rhinestones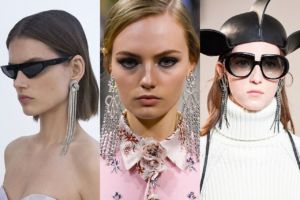 Rhinestones are often seen both in high fashion as well as in fast fashion due to their versatile nature. Whether you're someone who's into vintage clothing or street fashion, rhinestones manage to fit into any aesthetic. Most of the models on the runway rocked cascading rhinestone earrings.
Colorful Jewelry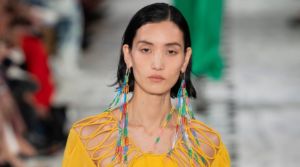 While some people prefer minimalist or classic looking jewelry, others like their accessories with a little more flavor to it. According to the runways, this season, the colorful jewelry wins the debate. 80s are back and so are the neon popping colors both in jewelry and in clothing. 2020 is the year to make bold statements.
Oversized Chains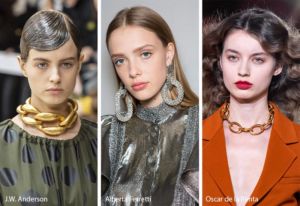 Chains seem to not want to go anywhere since last year. They keep being involved in the trends, yet this time there's a variety to it. Not all chains are in this year. It's important that the chain links are oversized. This creates and interesting and bold aesthetic that's hard to achieve in any other way.
Parisian Jewelry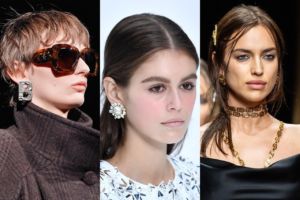 Last, but not least is the Parisian jewelry. This season Neo-Parisian aesthetics were all over the place. Pearls, layers of thin gold chains and cameo rings came together to once again remind everyone about the classic Parisian style.