Did you know that in a survey carried out by Facebook, about 80% of responses showed that Instagram favors the discovery of new products?
What does this mean for emerging jewelry designers and brands who've already got Instagram accounts? How can they use it as an eCommerce tool?
In this blog, we'll be providing you with simple tips on how you can make your jewelry on your Instagram page sellable, with the end goal of converting your admiring followers into loyal repeat buyers.
What is an Instashop? 
Instagram shopping is ultimately a business tool that allows you to add a buying option to your images/videos on your Instagram business page.
Here's an example below: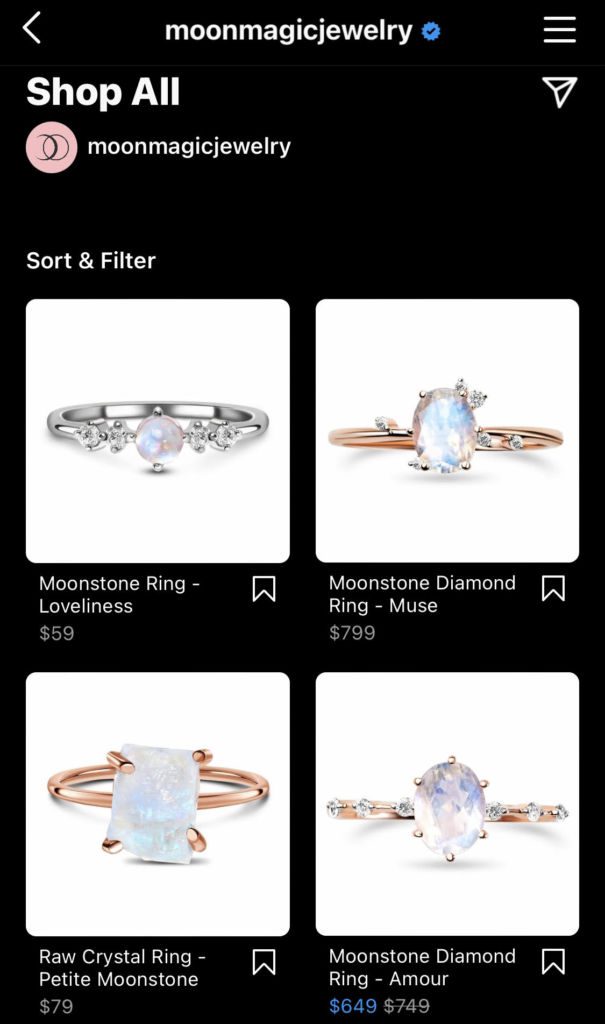 The biggest advantage of having your shop on Instagram is the fact that you don't even need an e-commerce website set up and start selling. Once you meet all requirements to set up your shop, the fun part begins. Simply post a new image of a product, tag it with its product name and price. Your followers will be ready to buy them directly from their smartphones.
All shopping aspects are integrated with the app itself, which means it facilitates the buying process and makes it much easier for the customer. No need to click links that will open your smartphone's browser where you'll be asked to register separately and add payment details. 
Create a following and grow your brand
The power of engaged followers on Instagram is unrivaled when compared to other social media platforms.
This is even better news for you because the luxury & fashion industries thrive on Instagram. Moreover, with Instagram Shopping, users can purchase your items directly from your photos, videos & stories. As suggested by Neil Patel, shoppable posts are ideal in Instagram to attract new customers. Such posts are very practical as it permits page visitors to click on the tagged media and be redirected to the product details instantly where a buying option is presented.
Thus, this method is much more convenient for your followers as they won't be forced to leave Instagram to make a purchase or try to search for the item you have shared on Google.
Here's an example of an up-and-coming jewelry designer who's gradually creating a following to grow their brand. The next logical step is adding the convenience of Instagram shopping.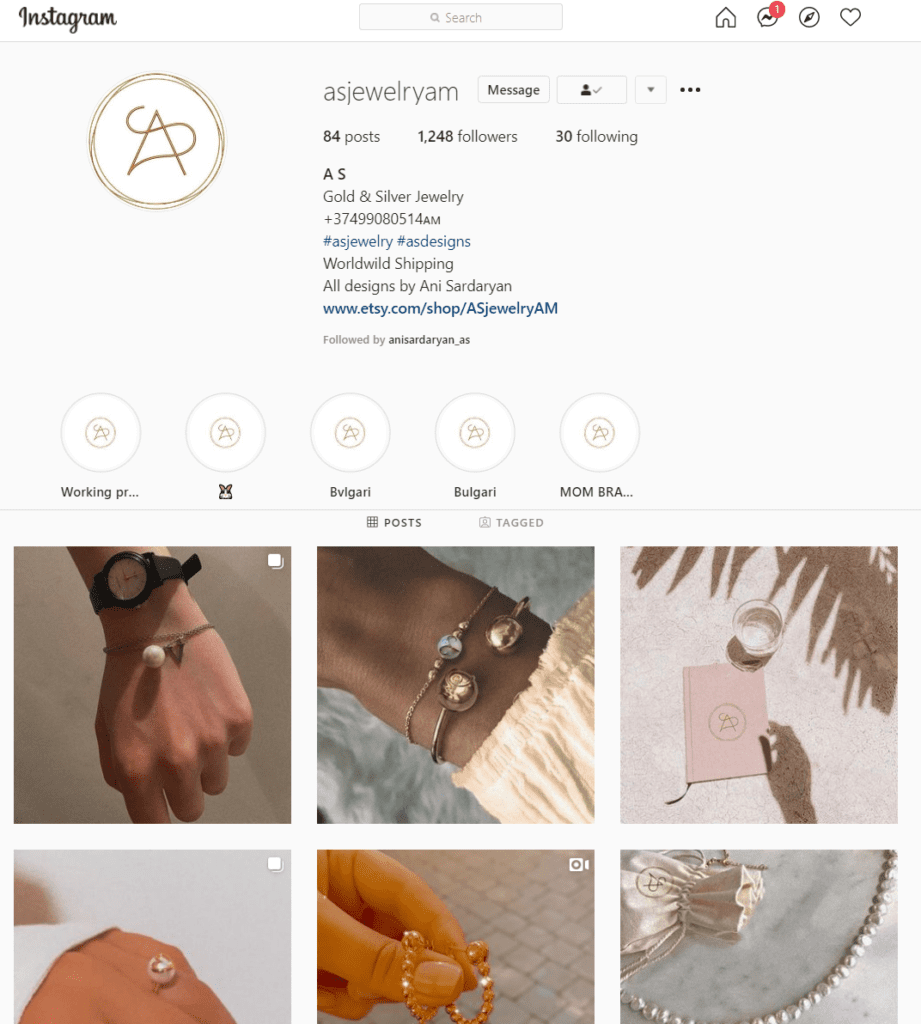 Audience engagement is key
Similar to other social platforms, Instagram is all about exchanging with users. You must develop purposeful connections with your followers. Also, you must be responsive when potential customers reach out with a question or comment! 
Be vigilant in your comments section. Your followers can share valuable information to help you understand which products are hot and which ones are not. Being able to swiftly respond to their questions or concerns is important for both your quality in customer service and your overall brand, make sure you own it.
At last, it's all a numbers game. The more your audience grows, the more your sales will also. The challenge is really to treat your customers righteously, as they could become repeat buyers or even better, engage in word of mouth technique and bring in new admirers!
Conclusion
To sum it all up, if you already have a business page on IG and use it to promote your jewelry and direct those who are interested in your website (if you have one), it's time to transform that page into an interactive shopping experience.
Instagram is a highly-visual platform, therefore your product images must be top-notch and speak directly to your target audience. 
Sarkissian Luxury Studio is a prolific CAD Design Center and we provide the perfect service to help you sparkle your Instagram page. We call this service Social Media Rendering.
Our goal is to set you up professionally and have ready-to-be published images of your gorgeous jewelry for all your social media accounts. This way, you can concentrate on being more creative and grow your product line.